In the current era when cruisers were no longer in vogue and fast disappearing, there is still one ferry proudly flying the cruiser flag, the Lady Mary Joy 3 of Aleson Shipping Corporation. Actually, she is even the best and fastest ferry of her company which owns the biggest shipping fleet based in Zamboanga City. Lady Mary Joy 3 might be a non-RORO cruiser but funnily her stern is transom! For Aleson Shipping she holds the premier route of western Mindanao, the Zamboanga City-Jolo, Sulu route. With her speed, she is always the first arrival in either port and arrivals of 2am is not uncommon which means a traverse time of just 6 hours for the 93-nautical mile route. That converts to a actual cruising speed of 15.5 knots with allowance for speeding up and slowing down.
Lady Mary Joy 3 was born as the Daito in Japan with the IMO Number 9006760. She was owned by Daito Kaiun which provides the shipping connection to Daito islands in the Ryukyus. She was built by Yamanaka Shipbuilding Co. in their Namitaka shipyard and was launched in February of 1990 and completed in April of the same year. Her Length Over-all (LOA) is 73.0 meters and the Length Between Perpendiculars (LBP) is 67.0 meters with a Beam of 11.0 meters which means she is a narrow ship, a reflection of her not being a RORO and being of cruiser design. The ship had an original Gross Tonnage (GT) of 699 nominal tons and a Deadweight Tonnage (DWT) of 852 nominal tons. She is powered by twin Niigata marine diesel engines developing a total of 4,000 horsepower giving her a service speed of 17 knots when new. Lady Mary Joy 3 has a semi-bulbous stem and tall center mast.
In the year 2011 when the new replacement Daito came, the old Daito was sold to Aleson Shipping Lines of the Philippines. She was refitted while anchored off Zamboanga port  and Paseo del Mar park and two passenger decks were added astern of the funnel and another scantling was built between the bridge and the funnel which raised her passenger capacity to 500 which is just enough for the Zamboanga City-Jolo route. The cargo deck at her bow was retained but the cargo deck beneath the old passenger deck was converted into an additional Tourist section.
Lady Mary Joy 3 actually has three passenger decks. The lowest which has no opening at the sides is the aforementioned additional airconditioned Tourist section. At the second deck at the front are Cabins and the original Tourist accommodations. Astern of that behind the funnel is Economy and dividing the front and the rear of the second deck is an original Japan lounge with a small front desk. The third and uppermost deck at the bridge level are all Economy which also includes the ship canteen or kiosk.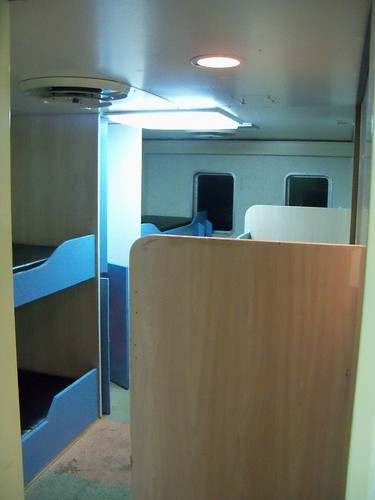 With additional scantlings the GT of the ship rose to 835 nominal tons and her new Net Tonnage (NT) is 568 tons with a Depth of 5.3 meters and a Draught of 4.11 meters. Her Estimated Time of Departure (ETD) in either direction is 8pm, a very convenient post-dinner departure time. With a pre-dawn arrival this affords passengers travelling beyond Zamboanga City an early start. Those not inclined to go down early can opt to sleep further (a traditional ship courtesy) but visiting the ship at dawn I found almost all the passengers to be off already.
Not being an old ship, Lady Mary Joy 3 is still fast and very reliable and she easily outguns the other cruisers and Moro boats in her route. She might not be a RORO    but that is not much a concern to the company as her pair in the route is a RORO ship. When I last visited Zamboanga City, she was easily the cleanest ship in the Zamboanga City-Jolo route. Though the best ship in the route her fares are comparable to her competitors and this makes her a popular ship for the travelers in this area.
In her current state it looks like many, many years of service can still be expected of her. In fact, it seems she is simply starting.